Linking Reliable Products
with Reliable Solutions
Marketing & Sales Support
Derek Daniels has earned the Certified Sales Professional (CSP) designation and is a Certified Professional Manufacturers' Rep (CPMR). Having worked in the field for industrial distributors and a manufacturers' rep company gave him a sound understanding of our industry. Customers and Principals rely on him for sales solutions. Derek has a Bachelor's Degree from the University of Kansas.
Jon Bowman has earned the Certified Sales Professional (CSP) designation. Jon joined us with an extensive background in the power transmission industry. He has distributor experience which gave him valuable product and application knowledge. He understands the value of and offers excellent customer service. Jon has a Bachelor's Degree from Arkansas Tech University.
Julie Daniels focuses on satisfying the needs of our customers, manufacturing partners, and sales team. Customer service, marketing, and training are the skills she employs to help her team be successful. Prior to Motion Products she was the marketing manager, training and recruiting manager for a large regional electrical distributor.
Dwayne Daniels vast experience in power transmission, conveying and industrial solution sales makes him a valued resource. Dwayne works closely as a sales consultant with the MPI team.
MPI is a professional manufacturer's representative agency. Our success is driven by our experienced personnel who bring direct experience to the industries we serve.
Our company was founded in 1985 and in 1992 incorporated as Motion Products, by Larry Johnson. In 2012, Dwayne Daniels took over leadership when he and Julie Daniels purchased the company. They re-branded using the company initials, MPI.
On January 1, 2019 Derek Daniels purchased and became President of MPI.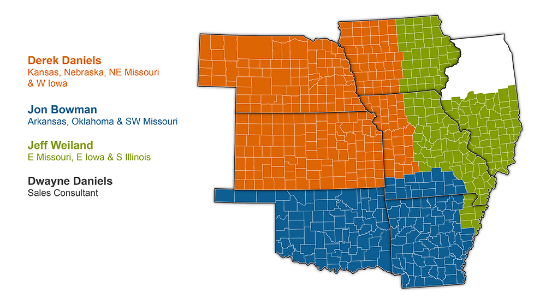 Matt Mosakowski brings a diversity in product knowledge, customer service and sales experience to the MPI sales team. Equipment parts sales, growth planning and inventory management experience allow him to understand the different challenges our customers face daily. Matt has a Bachelor of Business Administration and Management from the University of Missouri-Kansas City.